Forensic Optical Cleaning
Kit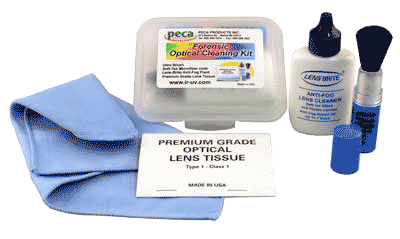 Lens & Filter Cleaning Kit
Ideal for lab or in the field. Case is specially designed with round corners to fit comfortably into jacket or shirt pocket, yet contains everything needed to keep optics clean and ready for use. Made from heavy duty polypropylene, the case is almost indestructible. It closes with a distinct click that assures the contents are kept clean and secure.
Each kit contains:
Formula MC Lens Cleaning Fluid
Premium Grade Lens Paper (Spec. AA-50177B)
Ultra Brush Lens Brush
Soft-Tek Microfiber Cloth
Contact Us
471 Burton Street, Beloit, WI 53511
1.800.999.7322
sales@pecaproducts.com
Monday-Thursday: 8-4:30
Friday: 8-Noon
Saturday, Sunday: Closed
Return Policies
Stock filters maybe returned for credit with prior authorization. Special ordered filters are not returnable.
Find Us here: